Details
Everyone knows about how much fun waterparks are. It is no exception in Marmaris. Go enjoy the waterpark in Marmaris. This one is on the top of a small mountain where you will have a birdseye view of Marmaris.
Wave pool, variety of slides.
Get wet and wild while being entertained in the heat of Marmaris summer. It is a great, fun passtime for families.
Highlights
Water Park with Great view
What you can expect
Time will fly
Program
Time: 09:30 and 18:30 hours - every day
Itinerary:
You can start as easly as  9:30 and leave  as late as 18:30
Pickup Time:
30 min before your tour time. Please be ready in front of your hotel.
Departure Point
We will pick you up from Your Hotel in desired time
Return Details
Drop you back your hotel in the desired time.
More details
Ideal advide who wants to have a different and fun activities during the day Marmaris Aqua Dream. A suitable alternative for everyone from 7 to 77.
Entertained until the end of the day under extensive security measures. Lifeguards are always ready, with friendly service and a rich kitchen is equipped to provide you and your family spend a pleasant day.
This facility has cafeteria, changing rooms, private cabins with hot and cold water shower cabins, you can leave your precious personal belongings are secure safe box too.
Adult and children's swimming pools are separated and there are 11 different slide and activity.
Inclusions
Pick-up, Drop-back service, sunbeds, all activities, Personal Accident Insurance
Exclusions
Everyting else in the park extra (food , drink etc)
Voucher information
Your Voucher will have full details about Your Bookings. Full detail of payment and Balance Status is in your Vouchers too.
Local Operator Information
Full Information of Local Tour operator is in Your Voucher. You can Call them , email them as well as you can contact us.
Video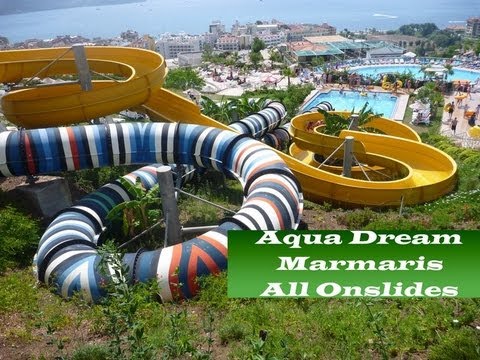 Please select Date and Time to be able to book the tour, you can always change tour date and time later.