Private Fishing Boat Savas
Details
This is Whole Boat rent for Haly Day Fishing Tour. For Group Fishing tour Click Here
Half-day fishing tours are regularly organized twice a day. Our 12 meter fishing boat takes a maximum of 12 anglers and has all the equipment you need to locate and catch fish.
Unlike many other fishing destinations, we only take you a short way from Marmaris harbour, often less than 30 minutes away. More time with the lines in the water mean more of a chance to make that catch of a lifetime.
Our captain has spent many years fishing in the area and has built up an intimate knowledge of local species and locations .You will be given the necessary hints and help to make your day a success.
Your friends or family who are not interested in Fishing can join the tour as Non-Fishing Guests and enjoy the tranquil scenery.
Highlights
Private Fishing and Boat Tour
What you can expect
Half Day Nice Fishing on Private Boat
Program
Itinerary:
Pickup Time: 20 Min Before Depart
Pickup Place: Your Hotel
You can Buy Drinks On The boat
-------------------------------------------------------------
Pick - up time : Between 09:30 & 09:45 for Morning Session
Depart Time : 10:00
Drop-back time : Around 14:00
-------------------------------------------------------------------
Afternoon Pick Up Time: 14:00
Depart Time : 14:30
Afternoon Drop Off : Around 18:30
Pickup Time:
30min before your tour. Please be ready in front of your hotel.
Departure Point
Marmaris Marina Harbor
Return Details
We will take you back to Your Hotel
Departure time
10:00 or 14:00
More details
you can either pick Morning session 10:00 of afternoon session 14:00
Inclusions
Pickup from Hotel All Fishing Equipment Private Boat rent for half day Return to Hotel
Exclusions
All Drinks and snacks not included. You can purchase on the boat if needed
Voucher information
Your Voucher will have full details about Your Bookings. Full detail of payment and Balance Status is in your Vouchers too.
Local Operator Information
Full Information of Local Tour operator is in Your Voucher. You can Call them , email them as well as you can contact us.
Video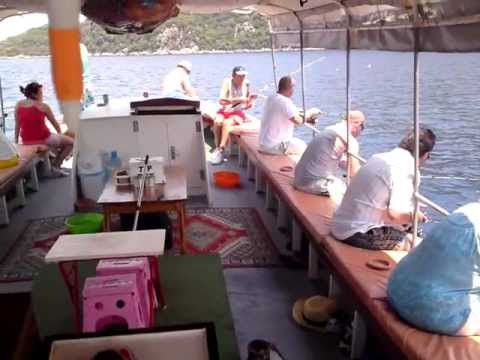 Please select Date and Time to be able to book the tour, you can always change tour date and time later.